It's Thursday! It's Mama Kat's blog meme day!! Woohoo!
This time, you voted on Facebook for the topic "8 Places I'd Go This Summer If Money Wasn't an Object". Easy enough, but a bittersweet topic for me because I work in travel. I get killer discounts on airfare – like you seriously would slap me for – but it comes at a price. I took an entry level job just to get in the front door with my company…so I make 50% less than what I can make somewhere else. That cuts into any travel budget we have pretty bad. And although I get discounts on airfare, I don't get killer discounts on hotels – so I can afford to get there, I just can't afford shelter. Kind of a problem. So if money wasn't an object, these are the 8 places I'd go. (In no particular order because I couldn't possibly decide.)
1. The United Kingdom: England, Ireland, Scotland.
In England?
The Tower of London…in fact, anything to do with the Tudor family. Henry VIII, Bloody Mary, Elizabeth I – they all fascinate me. I mean, c'mon…Henry VIII has a daughter (Bloody Mary) by his first wife, then invents a religion so he can get a divorce. He marries Anne Boleyn and they have Elizabeth…then he has Anne beheaded. Then he just goes nuts and starts marrying everyone. Bloody Mary grows up determined to return England to Catholicism and marries Prince Philip of Spain, ok? She dies childless…no heir…and almost has her 1/2 sister Elizabeth killed for treason, but doesn't. While she's dying, Philip proposes to his sister-in-law Elizabeth. What an ass munch! Elizabeth doesn't accept his proposal – in fact, she never marries. Instead, she rules England and goes to war with her brother-in-law and kicks his ever love'in ASS all the way back to Spain. You can't make this stuff up. (Apologies if I got some of that screwed up…I provided enough links for you to check it out, though…it's amazing.)
I want to stand in the places where these people stood (especially Elizabeth) and I want to think about what happened right there…where my feet are planted.
I want to see the Moors, Stonehenge, and the white cliffs of Dover…all of it. And Nottinghamshire because I have ancestors buried there. And my friend Michael…because I haven't seen the dude in ages.
In Ireland?
I want to see the countryside and kiss the Blarney Stone. I could just drive around the countryside the whole time and be happy.
Scotland?
I want to head specifically to Aberdeenshire and Dunnotar Castle. My 3rd great-grandmother is a Keith. Clan Keith has an amazing history. They lived at Dunnotar for a time. Mary Queen of Scots (Elizabeth I's cousin…not even kidding) visited there. I want to go see it, touch it, feel it. Pretty much all of Scotland looks gorgeous and interesting, but this place in particular calls to me.
Dunnotar Castle
2. Australia & New Zealand
Everything. I want to see everything. And then I want to see every place where they shot the Lord of the Rings trilogy and the Hobbit movies. Yes, I want to stay in a Hobbit hole. And I want to have dinner with my friend Bruce, the Kiwi, and his family.
3. Machu Picchu. How can you not want to go there? It's really really old…and cool. And beautiful.
4. Switzerland. I hear they make Saint Bernards and chocolate there. Seriously…I want to go to the monastery where my favorite dog breed in the universe started…and I want to hug a couple hundred Saints. I want to get Swiss Saint drool and slobber all over my clothes. I don't care if I get on the plane covered in dog hair. I want to go hug on these babies. And then I'll go have some chocolate and see the rest of this gorgeous country.
5. Austria/Hungary/Germany. My mother's family is from these countries – and some of HMH's as well. I want to put flowers on the graves of my ancestors (is that gruesome? Sorry…) And the castles…oh, boy…the castles. I want to get allll up in those castles. Gorgeous.
6. France. Yeah, I hear a lot of stories of rude Frenchies – but I don't care. Their country is gorgeous and I want to see it. Paris, certainly. The Louvre alone is enough to make me want to tolerate their pissyness. The Eiffel Tower. The countryside. If I have to wear ear buds to keep the nasty remarks away from my ears, I will…but I want to see France.
7. Italy. First on my list? Venice. Such a place is incredible to me. I have to experience that. Rome…Tuscany…the Amalfi Coast. Is there any place in Italy that's not gorgeous? If so, I've never heard of it.
8. Easter Island. Yeah, you heard me. There's only one flight in and out each week – so if you miss it, you're there for another week. But I want to see those giant heads and sit and ponder who put them there and why. I've heard the people are absolutely lovely and that Easter Island is amazing even without the heads.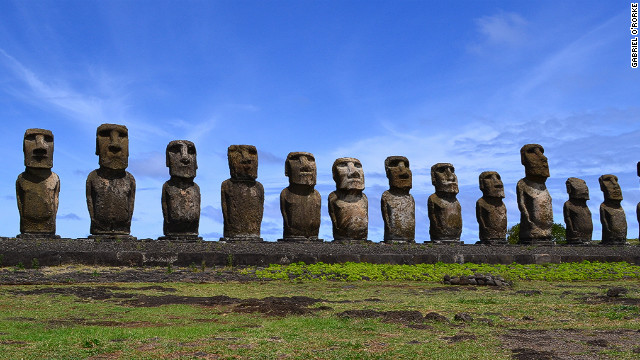 So…where would you go if you had all the money and time in the world? Tell me.