So earlier this week I was sitting, weirdly enough, in the waiting room at my gyno doctor's office…scrolling through Facebook on my phone…and I see this article from Yahoo! Health:
Please Don't Stick Herbs Up Your Vagina. Please.
What the actual fuck? Did I read that right?
I felt an odd mixture of horror and curiosity that I haven't felt since Gwyneth told us all we should be steaming our lady bits if we wanted to be cool like her. (I'd link you to her blog post about all that, but it mysteriously disappeared after the entire universe laughed at the ridiculousness of it all). That's okay. My vagina decided back then that it didn't want to be cool like Gwyneth. I'm not in the habit of scalding the shit out of my girly parts even if Ironman's girlfriend is telling me to do it.
To be fair, I'll link you to this article about the famous vaginal steaming post. It's the best I can do.
Anyway, I clicked on the Yahoo article. How could I not? I was not disappointed. I mean, I'm thankful that I was paying attention in school the day they told me not to mess with my vag's eco-system, as it were, but for those of you who think differently…this article is awesome on multiple levels. When it comes to all the reasons why you shouldn't put herbs up your vagina, Amy Rushlow (with Yahoo Health) puts it all together for us in an effing hysterical package.
Apparently, "vaginal detoxing" is actually a thing that some women are taking seriously. Like…they're buying herbal tampons and shoving them up their vajayjays to get a good detox. For three days. THREE. DAYS.
Ladies…c'mon…really?
My favorite part of the article was when she talks about where to buy these ridiculous things. Are you ready? Etsy. Yes! Etsy…the homemade crafting website. "Because when you want to buy something that goes up your vagina, the first person you think of is the guy who made that super-cool necklace for your aunt," says Rushlow. LOL. I love this chick! (I clicked over to Twitter and followed her so fast.)
I read the damn thing twice while I was sitting in the waiting room, then I was called back to have my own lady bits inspected, giggling the entire time. But as I walked back to the exam room, I realized that these herbal tampons look like…tea bags. Don't they?
Holy CRAP! Tea bags for the vag!!!
Okay, now this is exciting. If you've read my blog or followed me on Facebook for any length of time, you're well aware that I'm a big fan of Downton Abbey. So now I'm thinking…vag…tea bags…tea…Downton…vag…tea….
Sometimes my mind is like a runaway train, honestly. And once it's off the tracks there's just no stopping the damn thing. Before I knew it, my imagination exploded with images of Lady Mary doing magazine ads for this remarkable breakthrough in feminine hygiene.
"I'm Lady Mary Crawley…and when I want to get the funk of a dead Turk's peenie out of my vag, I turn to Mrs. Tiddlywink's Detox Tea Bags."
Poor Mr. Pamuk was no match for Lady Mary's vag. Perhaps if she'd had a damn detox beforehand he'd still be alive!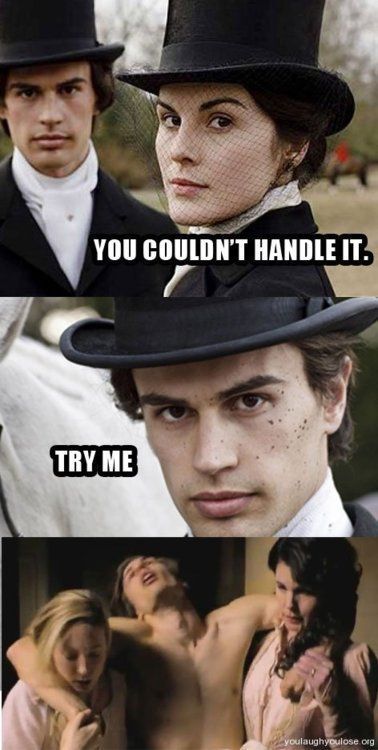 Remember when Lady Mary made Anna go to the pharmacy to get a diaphragm so she could bump uglies with Tony Gillingham out of wedlock?
Pharmacy lady: "May I help you?"
Anna (embarrassed): "Yes, uh…I'd like…I'd like to get one of these please."
(She hesitates a moment.)
Anna: "Oh, bullocks. Can I also get a dozen of the Cinnamon Cervix tea bags? Lady Mary's whoring around again."
I'm sure you're all thinking what I'm thinking: I never would have survived back in the days when the working class couldn't say what they thought. If I'd lived back then…with my mouth, I'd have ended up scrubbing underpants at the local whorehouse or something – and scrubbing my knuckles raw cleaning crotches all day just seems a waste of my talent.
And what about the Dowager's naughty history with Russian Prince Kuragin?
Perhaps a little of "Lady Violet's Echinacea and Olive Oil Downton Estate Vag Tea"…for when you need to add a little moisture back to that crusty, 80 year old hoo-hah. With a touch of Retinol to give your labia a rejuvinated, youthful appearance!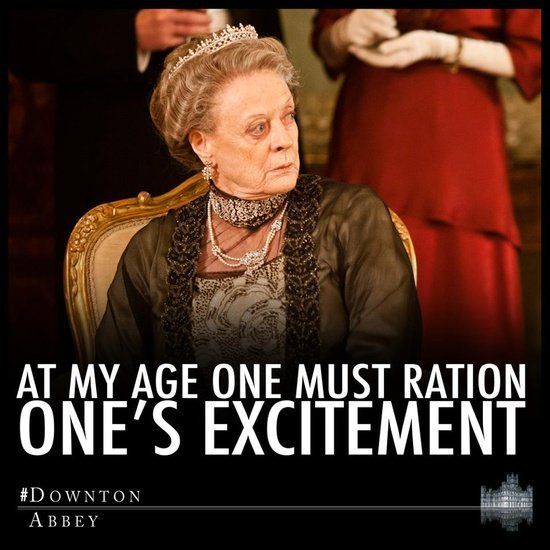 And, of course, there's the obvious seasonal blends we could play with:
Spring Fling – leaves an essence of clean laundry and freshly mowed grass
Summer Daze – perhaps something that smells like the ocean. Without the fish or…that might be weird.
Pumpkin Spice in the fall, y'all!
Holiday Hymen Surprise in December, maybe? I'm just thinking out loud…
It's true that I haven't had to suffer through a period since I had my evil bitch uterus sandblasted a year ago, but for you ladies who still have deal with that crap how about a nice Menstrual Mint?
There's no limit to the money we can make with this scheme, ladies, really. Which one of you has the capital to invest? We should talk. Get me Downton creator Julian Fellowes on the phone. STAT!
I'll be back later. I've been having trouble sleeping lately and I'm going to try my hand at mixing up a batch of Lavender Labia. I know I'm probably kidding myself, but at least my vagina will be well rested…